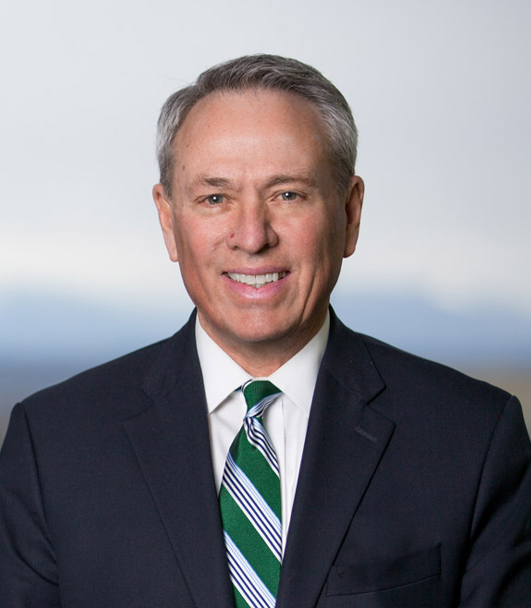 In Memorium – Bruce E. Larson
Honoring the memory of our friend, mentor and colleague.
June 17, 1950 – May 27, 2023
SEATTLE, WA – Karr Tuttle Campbell ("KTC") is saddened to share the loss of revered partner, Bruce E. Larson, who passed away May 27, 2023.
Bruce joined KTC in 1975, served as President of the firm for 26-years, then retired in 2020. More than just President, he was a friend, colleague, and so much more to those who had the pleasure of working with and knowing him. He was an iconic leader with a keen eye for keeping costs down while providing excellent client service. Bruce was widely known for his wisdom and for forming genuine relationships with everyone he met. He willingly shared his knowledge, was a great mentor to many, beloved and respected by attorneys, staff and the legal community at large.
Bruce was also the driving force behind building KTC to its successful platform of today, and for preserving the firm's deep-rooted way of conducting business. KTC remains notable for its low turnover, increasing profitability – even when the economy faltered – and for fostering a truly collaborative and supportive firm culture.  This was all due to Bruce's leadership philosophy which continues to resonate through every aspect of the firm's current culture.
Spanning almost 50 years of practice, Bruce's career was replete with numerous accolades for his litigation work in both federal and state courts.  He was active in the American, Washington State, and King County Bar Associations, the Washington Association of Defense Trial Lawyers and the International Association of Defense Counsel.  He was a frequent lecturer and author on a variety of litigation related subjects.  Bruce was recognized repeatedly as one of Washington State's, "Super Lawyers," as a "Top Attorney," and recipient of a Washington Supreme Court Award for Outstanding Service on behalf of the Washington Pattern Jury Instruction Committee, having chaired many of the Committee's working groups.
Bruce was predeceased by his beloved wife and life partner, Rebecca Lane Larson, and his younger brother, Mark Larson. He is survived by his son, Ryan Larson (Laura), and his stepchildren (along with their spouses), Ian Adleberg (Summer) and Matthew Adleberg (Vicky).  Bruce also leaves behind his step-grandchildren, Asher (son of Ian and Summer) and Shady (son of Matthew and Vicky), as well as his brothers, Richard Larson and Scott Larson.
---
About Karr Tuttle Campbell
Established in 1904, Karr Tuttle Campbell is one of Seattle's oldest full-service law firms, serving the business and litigation needs of individuals, organizations, and leading businesses throughout the Pacific Northwest.  Well into our second century of service, we remain committed to the traditions of providing excellent legal services, innovative approaches, meeting the challenges of a global marketplace, "greener" work practices, and supporting our community. Karr Tuttle Campbell has long been a proponent of diversity, equity, and inclusion, dating back to 1936 when it hired Muriel Mawer, who was a member of the firm for decades and one of the first female senior partners at a major Seattle law firm. Today, we are dedicated to increasing firm diversity, and to be a proud to be supportive of LGTBQ+ and gender equity. Learn more about our firm at www.karrtuttle.com.