CoreStack
Karr Tuttle Campbell is proud to represent Bellevue, Washington-based CoreStack. In 2016 CoreStack founders, strongly believed that the upswing in digital transformation and cloud would result in an increasing need for governance and automation. Their predictions have come true and the market for cloud management solutions has seen a tremendous upsurge.
CoreStack is an AI-powered NextGen Cloud Governance platform that enables enterprises to embrace cloud with confidence, rapidly achieving intelligent, continuous, and autonomous cloud governance at scale. The company's portfolio includes two sets of multi-cloud solutions — CoreStack Governance, a set of governance modules for FinOps, SecOps, and CloudOps, and CoreStack Assessments, a point-in-time assessment against Well-Architected Framework.
CoreStack helps 750+ global enterprises govern more than $2B in annual cloud consumption. Frost & Sullivan, Forrester, Gartner, S&P Global, and IDC have recognized CoreStack as an innovator and leader in cloud management. The company is a Microsoft Azure (Legacy) Gold Partner, Amazon AWS Technology Partner with Cloud Operations Competency, Oracle Cloud Build Partner, and Google Cloud Build Partner.
Most recently, CoreStack was recognized as one of the fastest-growing private companies in the U.S. making the coveted 2023 Inc. 5000 list. CoreStack's inclusion on this list underscores its striking growth and transformative influence within the cloud industry.  This prestigious ranking provides a data-driven look at the most successful companies within the economy's most dynamic segment – its independent entrepreneurial businesses.
Of the 5,000 businesses on Inc.'s list in 2023, CoreStack comes in as the 835th fastest-growing company, the 120th in Software, the 10th best performing company in the Seattle area, and the 12th in Washington state. The company's place on this year's list is due to its 711% growth year-over-year.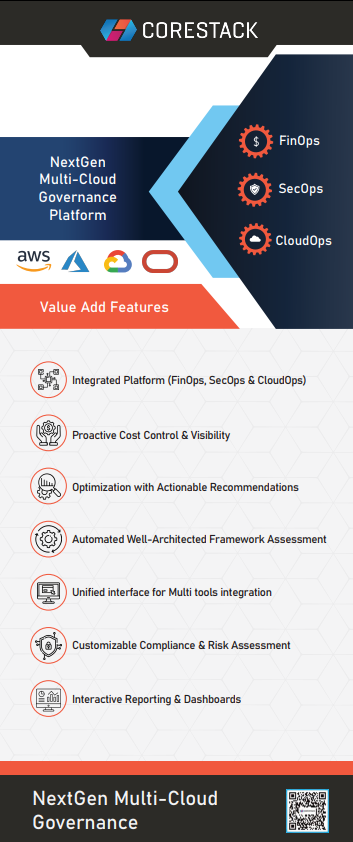 The Inc. 5000 class of 2023 represents companies that have driven rapid revenue growth while navigating inflationary pressure, the rising costs of capital, and seemingly intractable hiring challenges. "Running a business has only gotten harder since the end of the pandemic," says Inc. editor-in-chief Scott Omelianuk. "To make the Inc. 5000—with the fast growth that requires—is truly an accomplishment. Inc. is thrilled to honor the companies that are building our future."
"This recognition is a significant milestone that showcases our unwavering commitment to revolutionize the cloud industry and our team's relentless efforts," says CoreStack's CEO, Ezhilarasan (Ez) Natarajan. "Our placement on the Inc. 5000 list is not just an indicator of our robust growth but also a validation of the tangible benefits our technology extends to our partners and customers."
CoreStack offers a suite of multi-cloud, NextGen Cloud Governance modules that leverage AI to provide continuous and autonomous governance—for FinOps, SecOps, and CloudOps—through a unified dashboard. NextGen Cloud Governance helps enterprises mitigate risk, accelerate delivery, optimize performance, and innovate faster. In addition, CoreStack offers assessments based on Well-Architected Framework, as well as custom frameworks. This solution streamlines the process of evaluating, improving, and maintaining cloud workloads across all environments, including enabling auto-remediation directly from the CoreStack dashboard.
As outside counsel to CoreStack, KTC has proudly assisted with the company's immigration legal needs. Kripa Upadhyay, a shareholder and head of KTC's Immigration Law practice, has represented and assisted CoreStack with a variety of immigration related legal needs. This includes transfer of key executives from CoreStack's India operations to their U.S. office. Kripa also assisted several individual CoreStack executives, based on their outstanding achievements as International Managers and Executives, successfully secure Permanent Residence in the U.S.